Overview
---
The hopper feed screw pump has a square/rectangular hopper and a connecting rod between the propeller and squeeze cavity, which can be used in most industries to provide continuous, stable, steady, and low pulsating conveying. This unique design ensures that the material is better fed into the cavity between the rotor and the stator.
The other advantage of the hopper feed screw pump is a large, rectangular intake hopper with a screw conveyor allows them to easily be fed with highly viscous and semi-solid products with no tendency towards bridging. A roller-mounted sliding compression casing further simplifies dismantling, thus allowing the cleaning and maintenance of the rotating unit.
Advantage
---
Hopper cavity with rectangular inlet flange and spiral feeder and squeeze cavity, To facilitate the flow of slow and paste medium into the rotor and stator between the hole.
Continuous low pulsation transmission, not affected by pressure and viscosity fluctuation
The conveying capacity is proportional to the rotational speed and can achieve high precision measurement in the whole speed range;
High pressure no valve transmission
The stator with a hopper-type feed mouth can make the medium easy to enter the conveying cavity.
Low noise, slight vibration
Wide range of flow and pressure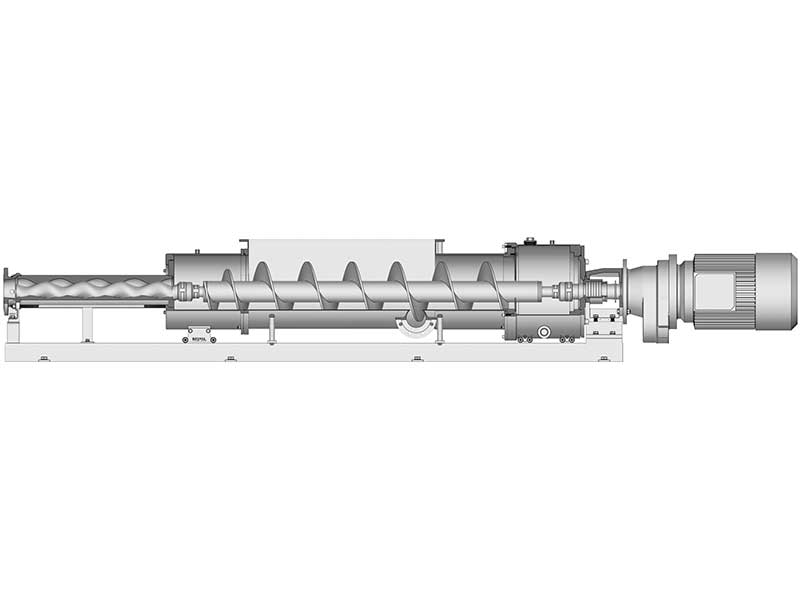 Application
---
Hopper feed screw pump is widely used in many industries, with the continuous, stable, steady, and low pulsating transmission of various media and rotational speed proportional to the measurement of almost all media. Use a hopper and screw feeder to facilitate conveying of slow-moving materials.
Mainly used for these characteristics
High viscosity, compaction, and fragile media
Slow flow and non-free flow, solid material fluid medium
For example
Sewage and refinery sludge
Dewatered sewage sludge with a solid content of up to 45%
Organic and inorganic sludges
Iron oxide sludge and electroplating sludge
Coal floatation sludge
Gyp mud
Gravel washing sludge
Industrial sewage
Lead paste
Slaughterhouse, food, and fish waste
Adhesive, PVC adhesive, dispersion adhesive, starch glue
Polishing paste
Tar, cement